The world's leading Augmented Reality event, SPIE AR VR MR, was held digital in March 2021. TriLite, the provider of the world's smallest projection display, stepped forward with very well-profound market, technology and product analysis that has been presented in the Industry and Technical sessions.
Learn more about OEM requirements on consumer grade AR glasses, the comparison between different projection technologies, the challenges of designing & building the most powerful Laser Beam Scanner (LBS), the Trixel® and its optical combination architecture. To access all these presentations, papers or videos, please click on the corresponding link in the list below.
Industry Talk at SPIE 2021
Ultra-compact Displays to Enable the AR Glasses Mass Market, by Dr. Peter Weigand (CEO)
Watch the presentation by our CEO, Peter Weigand, who talks about AR consumer glass requirements which leading OEMs are currently facing and how they can be supported by component suppliers like TriLite.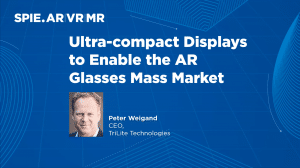 Technical Talks at SPIE 2021
Laser Beam Scanning in XR – benefits and challenges, by Prof. Franz Fidler (Innovation Advisor) & team
Read or watch the analysis from our Innovation Advisor, Franz Fidler, who talks about available projector technologies, which parameters make them comparable and why our LBS technology stands out from others.
DOI: 10.1117/12.2576490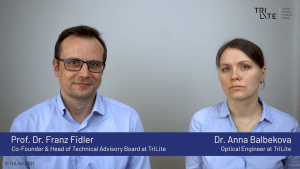 Ultra-compact micro-electro-mechanical LBS for AR applications, by Dr. Jörg Reitterer (CTO)
& team
Read or watch the analysis by our CTO, Jörg Reitterer, who talks about challenges in the design and development of LBS projection displays and why TriLite's Trixel® stands out from others.
DOI: 10.1117/12.2576704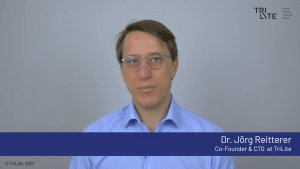 Laser beam scanner and combiner architecture, by Dr. Louahab Noui (Principal Optical Engineer)
Read or watch the analysis by our Principal Optical Engineer, Louahab Noui, who talks about aspects that are important when pairing a projection display with an optical combiner.
DOI: 10.1117/12.2576702