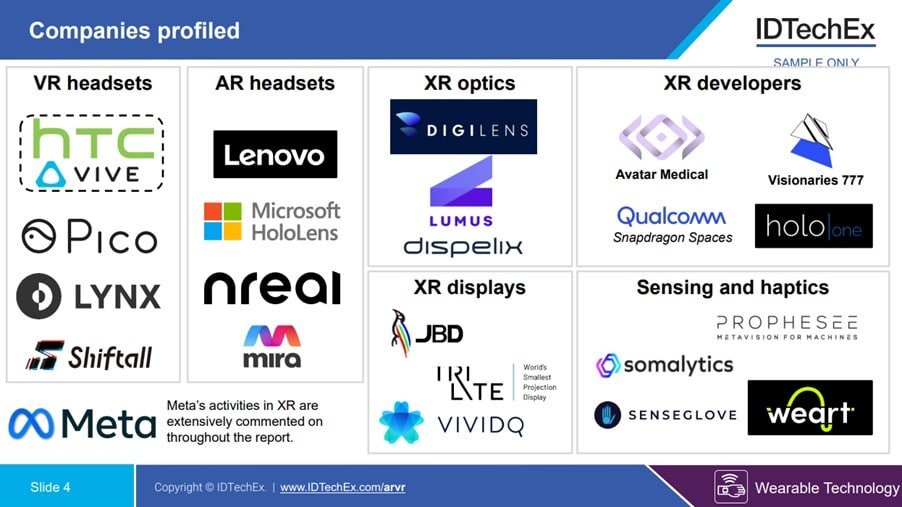 Thanks to Sam Dale, technology analyst at IDTechEx, for including TriLite in his recent report 'Virtual, Augmented and Mixed Reality 2023-2033: Technologies, Players, and Markets'.
As Sam says in his introduction, "Virtual, augmented, and mixed reality devices promise to revolutionize the way we interact". He quotes a figure that the XR headset industry is forecast to grow at a CAGR of 13% between 2023 and 2033 (XR collectively refers to AR, VR and mixed reality).
And as IDTechEx put it in their press release about Sam's report: "There is a growing realization that, for consumer AR glasses to truly succeed, they need to perform multiple roles that cannot be fulfilled by existing smart devices or VR headsets." 
In fact, AR headsets and glasses have only really made a wide impact, so far, in professional usages – such as maintenance and logistics. To reach the general public, headsets need to be small, comfortable to wear and look good. The aesthetics of the glasses are particularly important to help them become socially acceptable, rather than being seen as only for geeks, and too intrusive of our privacy.
The key to making attractive, compact AR glasses is the image projection technology. This is where TriLite's laser beam scanning projector steps in – It's a projection display that works in all environments from direct sunlight (15 lumen) to dark rooms. Using a laser beam scanner gives us the advantage of a device that is small and light. Brightness and contrast are high, and the field of view (FOV) is large. Also, power consumption and latency are both low. 
As the world's smallest LBS, TriLite's ultra-compact Trixel® 3 optical display engine has the potential to disrupt the AR market and enable new AR smart glasses that drive mass consumer adoption. 
Read the full IDTechEx report here.
Sam has also recently interviewed our CEO, Peter Weigand, and there is a profile of TriLite on the IDTechEx website here.