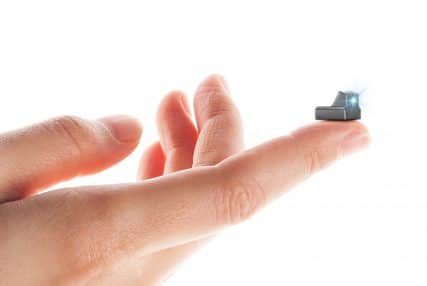 Vienna, Austria – January 19th, 2022 – TriLite is proud to present Trixel® 3, the world's smallest Laser Beam Scanner at SPIE Photonics West from January 23-25 in San Francisco, California, USA.
Trixel® 3 is TriLite's first Laser Beam Scanner Light Engine based on Infineon's 2D MEMS mirror, and is targeting Augmented Reality (AR) glasses.
Together, TriLite and Infineon enable the smallest projector system. The tiny module is the key component for AR smart glasses that offers a comfortable all-day wear. With no relay optics required, the overall module size is shrunk to a volume of less than 1cm3 with an ultra-light weigth of 1.5g.
Peter Weigand, CEO at Trilite, said: "We're proud to present the first laser beam scanner demonstrator powered by Infineon's unique 2D MEMS mirror. This is the first step in the collaboration between TriLite and Infineon focusing on a light engine with the very smallest form factor. We are very proud where we stand today and very excited about where our technology roadmaps are going to bring us soon."
Infineon brings decades of experience in MEMS device design and manufacturing into the augmented reality market with its 2D MEMS mirror. Starting from state of the art MEMS technologies, Infineon brings innovative and differentiating features which makes its MEMS mirrors best-in-class.
The powerful TriLite Calibration Module (TCM) software simplifies system integration, by providing real-time correction of lens errors, distortions, and color shifts (true tone).
Trixel® 3 will be demonstrated at TriLite's private suite during the SPIE 2022 event.