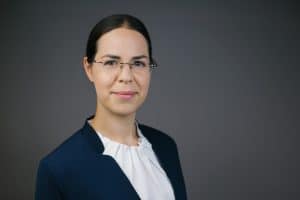 TriLite, the designer of the world's smallest projection display, is very excited to announce its latest addition to the management team: Stefanie Sonnenschein has taken over the Finance & Human Resource topics as of April 01, 2021.
Stefanie holds a Master in International Economics and is a Chartered Public Accountant and Certified Valuation Analyst. Stefanie has an established track record as Head of Corporate Accounting at an Advisory Company as well as Manager for Tax & Audit at BDO Austria GmbH.
TriLite's growth will significantly benefit from Stefanie's extensive international experience in finance and accounting and will bring TriLite to a next level in the areas of Finance & Human Resources to support augmented vision as lightweight as the eyewear of today.
Dr. Peter Weigand, CEO of TriLite, expresses his warmest welcome to Stefanie: 'Our unique company culture is a key element for the competitive advantage of the TriLite team. We are looking forward to working with Stefanie and jointly drive our growth!'