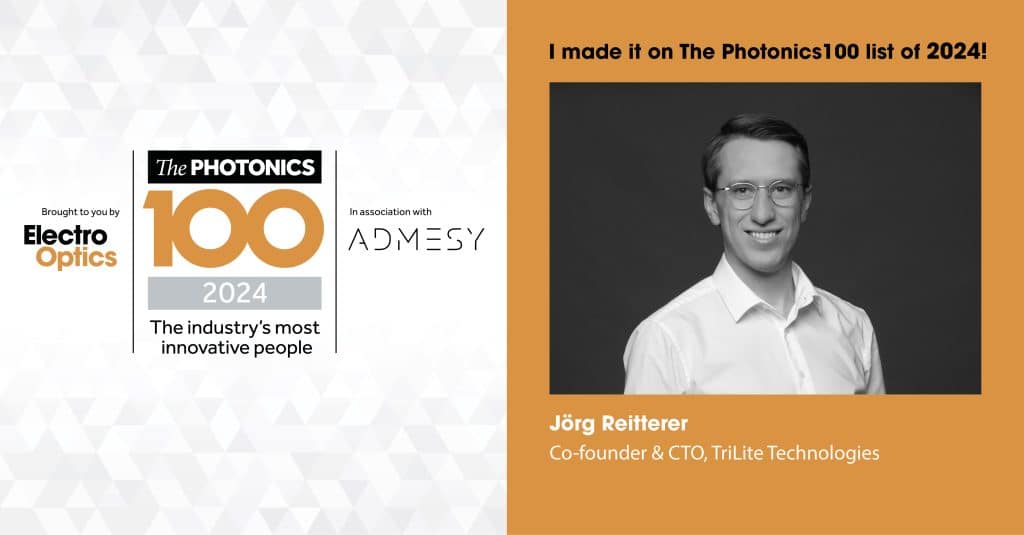 We are proud to announce that our co-founder and CTO, Dr. Jörg Reitterer, has been named a #Photonics100 honoree for the second consecutive year.
The Electro Optics Photonics100 is a list that celebrates the people in the photonics industry who are driving innovation and pushing boundaries. Electro Optics says they are highlighting "the innovators, the boundary pushers, the disruptors, and the 'out-of-the-box' thinkers", and we certainly feel Jörg falls into those categories.
Jörg's recognition in the Photonics100 highlights his amazing work on Trixel® 3, TriLite's Laser Beam Scanning (LBS) projection display. Trixel® 3 represents a significant leap forward in compactness and image brightness, enabling clear, high-quality images in all environments, including bright sunlight. This innovation enables seamless integration of high-quality AR displays into lightweight, wearable devices.
We are honored to have Jörg as a member of our team, and we are grateful for his dedication to advancing the field of photonics. His work is helping to make everyday use of AR a reality, and we are excited to see what the future holds.
For more details about the Photonics100 list and to explore the remarkable individuals shaping the future of the industry, please visit the official link: The Photonics100 2024