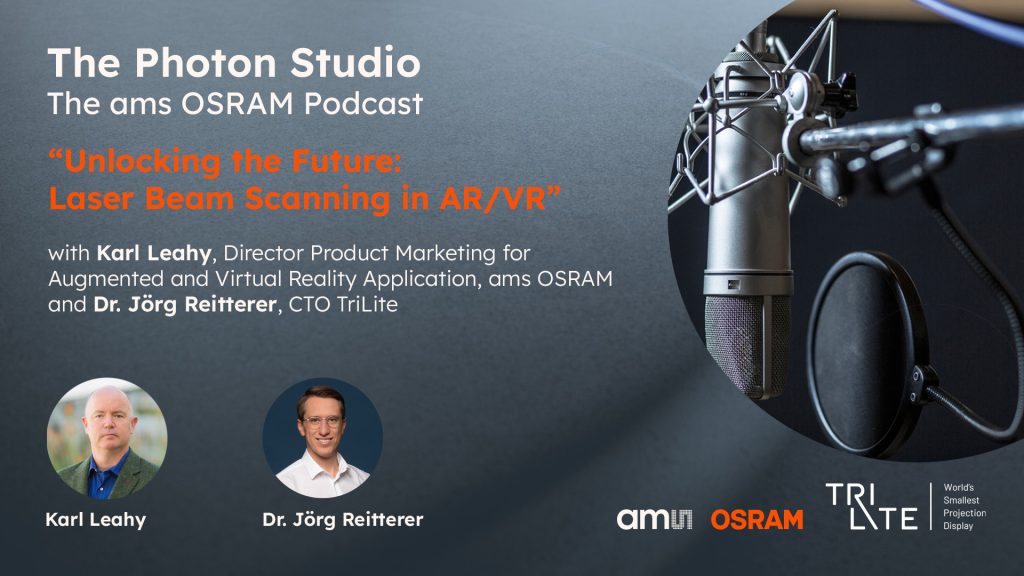 Dr. Jörg Reitterer, our CTO and Co-Founder, was recently featured on the ams OSRAM
podcast, The Photon Studio, alongside Karl Leahy, Product Marketing Director at
ams OSRAM, for the episode "Unlocking the future: Laser Beam Scanning in AR/VR". In this engaging half-hour discussion, Jörg delved into the advantages of Laser Beam Scanning-based displays solutions, its potential to revolutionize AR/MR field, and the challenges that need to be overcome before AR Glasses can be widely adopted.
In a world where technology is evolving faster than ever before, augmented reality glasses are emerging as a game changing innovation that promises to redefine the way we experience and interact with our daily lives. These spectacles are set to usher in a new era of immersive experiences and unparalleled convenience. To see the information on the glasses, tiny projection displays must be built into the glasses to project text or images onto the surface of the lenses. What appears very simple actually entails highly complex technology that requires a great deal of precision.
In the podcast, Jörg explains what is needed to achieve the world's lightest, smallest
and also brightest laser beam scanners for consumer augmented reality glasses, and why it is important for TriLite to work with ams OSRAM, a global leader in the field of semiconductor laser diodes.
Amongst other things, they discussed a number of technologies that are leveraged for this type of projection: LCOS, DLP, LED-based solutions, and of course Laser Beam Scanning (LBS). And of course, the question about alternatives #LBS or #microLED was raised.
Jörg's answer was clear: "We fully acknowledge that there are other display technologies that are suitable for the AR market today, and microLED is very prominent in the media currently. It's a great technology. We at TriLite see it a bit far away right now from manufacturing readiness," said Jörg.
Jörg continues: "What we can clearly see is that LBS is here today, already manufacturing ready. LBS provides a small, light and very bright light engine for AR applications, with a future-proof roadmap. LBS, compared to the other light engine technologies, scales better. LBS is the only technology that keeps size and weight the same as you scale to increase FOV and resolution."
Jörg's unique perspective as a leading expert in LBS technology and Co-Founder of TriLite, the company at the forefront of developing LBS-based AR displays solutions, made for a truly informative and insightful conversation. We invite you to listen to the full podcast!
The Photonic Studio podcast is a popular podcast that covers a wide range of topics
related to photonics, including AR/VR, lasers, and sensors.
This episode featuring Dr. Reitterer is available on:
Soundcloud: Unlocking the future: Laser Beam Scanning in AR/VR
Spotify: Episode #9 – Unlocking the future. Laser Beam Scanning in AR/VR. With Karl Leahy and Jörg Reitterer. – The Photon Studio. The ams OSRAM Podcast. | Podcast on Spotify
Itunes: The Photon Studio. The ams OSRAM Podcast.: Episode #9 – Unlocking the future. Laser Beam Scanning in AR/VR. With Karl Leahy and Jörg Reitterer. on Apple Podcasts
AnchorFM: Episode #9 – Unlocking the future. Laser Beam Scanning in AR/VR. With Karl Leahy and Jörg Reitterer. by The Photon Studio. The ams OSRAM Podcast. (spotify.com)